Description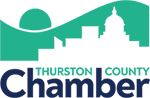 Challenge Seattle is an alliance of CEOs from 21 of the region's largest employers. Together, they are taking on the challenge of ensuring the greater Seattle area continues to thrive as one of the most vibrant, innovative, and globally competitive regions in the world.
First launched in 2015, Challenge Seattle's CEO members initially made a five-year investment to collectively tackle some of the region's most pressing civic challenges including homelessness. In 2020, its members renewed that commitment for another five years. Led by former Washington State Governor Chris Gregoire, Challenge Seattle harnesses the committed leadership, unique resources, and world-class talent of its member companies to find innovative solutions and inspire collective action for the greater good.
On Wednesday, November 10, 2021, Gregoire will speak at the Thurston County Chamber's Forum about Challenge Seattle, how this effort can impact Thurston County and how local leaders can use best practices Challenge Seattle has uncovered through this initiative—with an emphasis on chronic homelessness.
November's Forum is sponsored by Window Genie, Inspire Advisors, American Family Insurance, and Oly Tech Guys. Your forum ticket includes a plated lunch with socially distanced seating.
Please note, we follow Washington State Department of Health and Thurston County Public Health and Social Services guidance at our events. Please wear your mask unless you are actively dining. Thank you.